Bank Updates
A 
A Message From President/CEO Tom Traficanti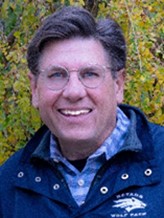 Ok, we can stop praying for snow now…
Many of you know our slogan, "It's not how big your bank is. It's how big you are with your bank."  When we introduced this slogan about 20 years ago, I thought it was too long for a tagline.  I was wrong.  The focus of this tagline is about you, our customer, and emphasizes the importance of customer service and banking relationships.  While we now offer "big bank" technology for mobile and online banking, we also continue our legacy of "community bank" local service.
A History of Successful Relationship Banking
Heritage Bank was founded in 1995 by a group of professionals in Northern Nevada who understood the importance of banking relationships.  Starting this year, after 21 years as the bank's Chief Credit Officer, I'm now transitioning into the roll of President (by the way, Stan is still working a couple days a week if you want to reach him).  As I reflect over the past 20+ years, there have been some incredibly rewarding times, but also some extraordinarily stressful and challenging times as well.
For those of us who were in Nevada during the Great Recession, this economic downturn was particularly painful.  The value of a banking relationship was never tested more than this time.  Business owners and individuals were in distress and needed a bank that was local and willing to meet with them, in person, to offer advice and solutions.  As many banks and other financial institutions failed and/or consolidated out of the area, Heritage Bank remained true to its commitment to our customers and thrived as a result.
We were tested again in early 2020 as the COVID pandemic hit many of our businesses hard.  Our commitment to our banking relationships allowed us to overcome these challenges, and we successfully delivered PPP (Paycheck Protection Program) funds to hundreds of small businesses and modified our loans to assist both our commercial and consumer clients during this stressful time.  While many panicked business owners struggled to find any contact person at their financial institution, our team of bankers were readily available and responsive, proving again the importance of good relationships.
The Future Is Always Unpredictable
Increasing interest rates is affecting our customers in different ways and challenging us to be more responsive. Our local economy seems well prepared to sustain some degree of economic recession.  Of note is that businesses and individuals have kept extra savings in their bank accounts and have much better balance sheets than they did a decade ago.
We remain focused on the longer-term advantages and strengths of the northern Nevada economy.  While I certainly can't predict the future, I can encourage all our customers to take advantage of their banking relationship with us and remember the importance of banking with Heritage Bank of Nevada.
A Commitment to Safety and Our Local Community
The safety of our depositors' funds will always be foremost.  While FDIC insures our deposits like most commercial banks, our clients have the additional security that comes from the strong financial backing of Glacier Bank and our affiliation with the Glacier Family of Community Banks.  Heritage Bank became a division of Glacier Bank in 2019 and joined an incredibly successful banking model which provides the financial strength of a larger institution while maintaining local control and decision-making unique to a community bank.
We remain committed to our roots as a Community Bank.  To us, this means our focus every day is to serve the businesses and people who live and work right here in Northern Nevada.  We make our loans to help expand and support the many thriving businesses that employ hundreds and further support our local economy.  We make numerous contributions to a variety of charitable organizations and our team of bankers can be found volunteering to support our community.
Our team of local bankers are ready to help you.  We are different from internet-based banks, or much larger banking institutions, where decisions are made at some distant location.  Instead, we are here, in northern Nevada, and we're here for you, our customer.  You can locate a complete list of our team members and branch locations on our website.
Tom Traficanti
President & CEO
Heritage Bank of Nevada
"It's not how big your bank is.  It's how big you are with your bank."
____________________________________________________________
System Updates
Telephone Banking Change Alert:
For all those who currently use our Telephone Banking service, please note that we have updated our system and number. Please call(833) 548-0078.
To see the new Telephone Banking Menu Options, please clink on the link to Telephone Banking within our website.
Mobile Banking Customers
Please download the Glacier Bank Mobile Banking App.
The app is available to online banking customers in the
Apple Store
and
Google Play
.  
With our app, you can bank 24/7 from your smart phone or tablet.
Features Include:
24/7 access to account information
Pay bills and people

Transfer Funds

View alerts


Deposit checks
Finding the App
Remember, Heritage Bank of Nevada is a division of Glacier Bank, so search for the app under 'Glacier family of Banks.'  The app is available for Apple or Android smart phones or tablets.