Bank Updates
A Message From Tom Traficanti President and CEO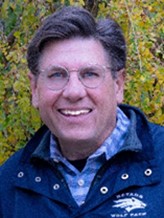 Community Banks Build Better Communities
With the media spotlight on the banking industry, everyone is rightfully concerned about the safety of their deposits.   It's been discouraging to see the impact that a couple of reckless, and poorly managed, California banks have done to create such unwarranted fear about community banks.  As we know, the FDIC ultimately guaranteed all the deposits of these failed banks, regardless of the deposit size, and assured that all their customer deposits were safely transferred to another bank.  Worrying about your bank really shouldn't be on the list of things you need to worry about!
As our valued customer, you should feel secure and proud to bank with Heritage Bank of Nevada, northern Nevada's Premier Community Bank
Deposits you make with us are channeled right back into our northern Nevada community. Our loans support hundreds of local consumers, community organizations and small businesses which are growing, building, creating jobs, developing housing, and supporting our northern Nevada economy in many ways.

 

We are locally managed with trained staff who understand the importance of Relationship Banking. We have local Relationship Managers and experienced Commercial Loan Officers who understand our local community, and we've proven our commitment to providing dependable service though many economic cycles.
We offer modern E-banking, cash management, and mobile banking products which gives you access to modern banking conveniences while maintaining local personalized service.
Civic service, community involvement, and supporting charitable organizations is a way of life for our community bankers who volunteer and participate in numerous events throughout our community.
We offer the stability of a community bank that has dependably served northern Nevada since 1995. Our bank, comprised with the Glacier family of community banks, continues to be financially strong and recognized as one of the most diversified banks in the country.
Deposits are fully insured by FDIC up to the limits provided. For those with larger deposit balances, we can often use strategies to get 100% FDIC insurance by spreading money around into different accounts.  For deposit amounts that exceed the FDIC limit, we have additional products to collateralize the accounts and/or use IntraFi Network ICS/CDARS to get FDIC insurance on multimillion dollar deposits.
Thank you for your continued support and relationship with Heritage Bank.  We are here for you with a team of local bankers and seven branches serving the Truckee Meadows, Carson City and Carson Valley.  You can locate a list of our branch locations on our website (heritagebanknevada.com).
Tom Traficanti
President
____________________________________________________________
System Updates
Telephone Banking Change Alert:
For all those who currently use our Telephone Banking service, please note that we have updated our system and number. Please call(833) 548-0078.
To see the new Telephone Banking Menu Options, please clink on the link to Telephone Banking within our website.
Mobile Banking Customers
Please download the Glacier Bank Mobile Banking App.
The app is available to online banking customers in the
Apple Store
and
Google Play
.  
With our app, you can bank 24/7 from your smart phone or tablet.
Features Include:
24/7 access to account information
Pay bills and people

Transfer Funds

View alerts


Deposit checks
Finding the App
Remember, Heritage Bank of Nevada is a division of Glacier Bank, so search for the app under 'Glacier family of Banks.'  The app is available for Apple or Android smart phones or tablets.